A COMPLETE CHECKLIST TO LOOK FOR BEFORE BUYING A USED TRACTOR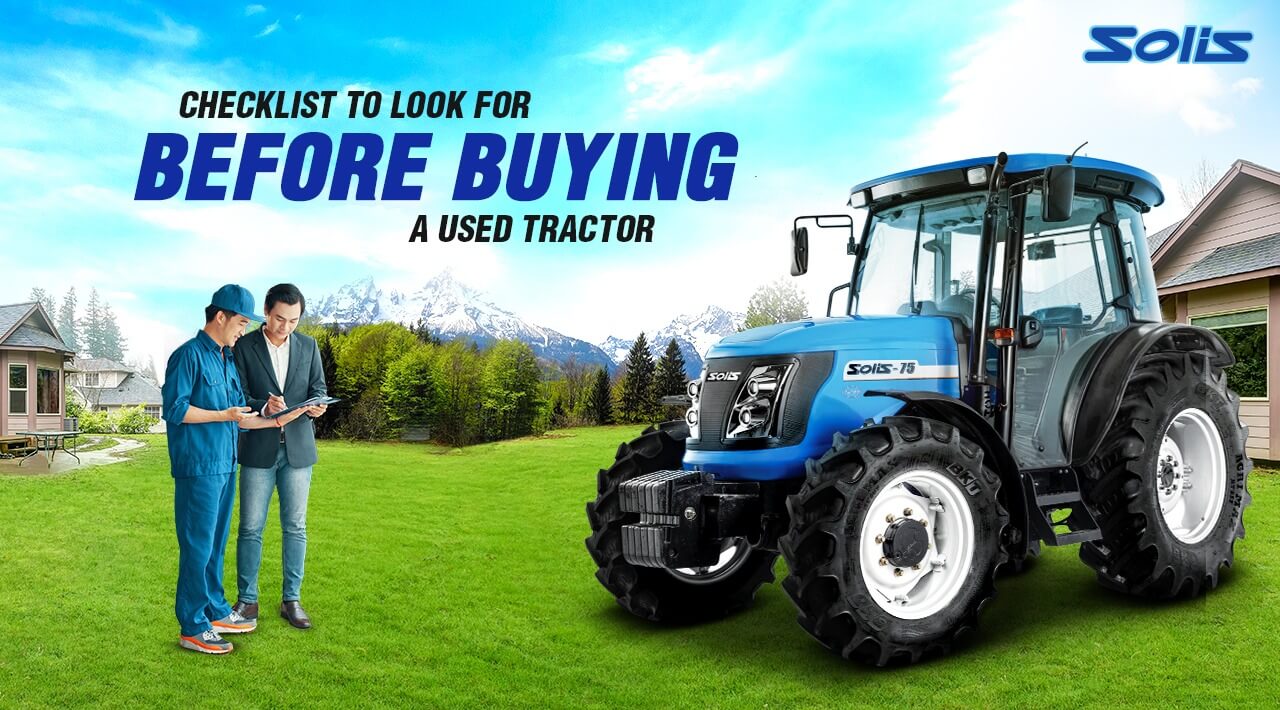 If you are looking for a used utility farm tractor, it is always a good idea to have a list of questions ready to ask and a list of items to examine on the tractor. Especially when buying an item like a compact tractor that is
capable of completing a multitude of heavy projects and that too on a ton of different terrains.Below is an inspec- tion list and tips that you can use while inspecting a used farm tractor.It is worth noting that tractors are often badly neglected based on one or several of the following features:
1. Peeling Paint
2. Cracked Tyres
3. Bulging Tyres
4. Dents
5. Loose Fixtures
6. Signs Of Welding
7. Mismatched Parts And
8. An Overall Appearance And Feel Of Being Weathered. Hence, you might want to be a bit more cautious while examining used tractors with these types of factors and must ask a lot more questions.
Decide Whether You Need A 2WD or A 4WD                                                                                                                        If you are going to use your tractor primarily for front implements, 4WD may be a better option than 2WD. It is also worth noting that 4WD tractors have a higher resale value than 2WD tractors.Once you have made up your mind, get into the basics.
1. TOTAL HOURS OF OPERATION
Hop inside the cab and observe the number of hours of operation the tractor has performed.On the other hand, diesel engines can go for much longer. In general, diesel engines are considered to still be good at 6,000 to 10,000 hours
of hard work. If they are well-maintained some tractor models can exceed even 12,000 hours and still operate like new. It solely depends on the tractor model and maintenance. Do your complete homework and do not be afraid of a bit larger number of operating hours, sometimes the tractor may still be in excellent shape if the previous owner or owners have maintained it really well.
2. GOOD MAINTENANCE LOGS
Do review the maintenance logs, inspection lists, work orders, receiptsand any other supporting documents you can get your hands on.These documents combined with detailed questions to the seller canoffer valuable insights about the history of the tractor, and how often and what types of repairs were performed. It could also uncover potential issues that have not been addressed by the owner!
3. MUST CHECK THE ENGINE OIL BEFORE STARTING THE ENGINE
Before you start the tractor, you must check the engine oil level, as a cold engine provides the most accurate reading. The engine oil level ought to be between the "Full" and the "Add" mark level on the dipstick. Too low ofengine oil level can indicate signs of neglect. An Engine oil that is in good condition should look like golden honey colour. Whereas a dark brown to black colour signifies that the engine oil and oil filter ought to be replaced. If engine oil changes have been neglected, there is a good chance of the build-up of sludge in the engine. To confirm this, remove the engine oil filler cap and look into the engine using a flashlight.
4. HYDRAULIC FLUID
Examine for leaks and poor seals while inspecting hydraulics, chances are you might spot signs that damage to the outlets or hydraulic tank.Check the fluid levels, it should be at the maximum mark.
5. RADIATOR COOLANT
Open up the radiator, if you do not find any leaks and the coolant and radiator cab are clean with a nice dark green, it is likely good. Do not forget to seek for any white scum or bubbles in the radiator, or moisture at the bottom of the radiator, as this could indicate seriousand expensive repairs!
6. FRONT AXLE OIL
Park the tractor on level ground, remove the fill plug, remove the check plug and that is about where the fluid level should be – at the maximum mark. Also, make sure the fill plug and surrounding parts are free of build-up debris.
7. WELL-MAINTAINED HYDRAULIC SYSTEM
It is a good idea to conduct a pressure test on the hydraulics system to ensure it is functioning at the correct psi capacity mentioned on the manufacturer's spec sheet for the make and model of tractor you are looking at. One way to test this is to check the full range of the rams by extending them while supporting a heavy load. To check that there are no leaks keep the load in a holding position. If you sense any chattering noises coming from the pump while lifting the load, it could indicate that the pump is getting an insufficient flow of hydraulic fluid.
8. CLEAN FILTERS
A clogged filter can affect the performance of the tractor's engine, and it can also make the tractor work harder than it needs to. As a result,this can drastically shorten the tractor's lifespan and reduce its resale
value.
9. CONDITION OF PTO OR POWER TAKE-OFF SHAFT
Turn on the tractor's engine and then turn on the power take-off (PTO) shaft. Ensure that the PTO shaft movement is rotating smoothly. Listen for any uncommon sounds like knocking coming from the output shaft.You do not want to end up with a used tractor that requires repairs to the PTO shaft, as this could be very expensive! PTO HP is just as significant as the tractor engine HP itself. A larger PTO number is also important when driving your tractor on hilly or weeded terrain. The engine's HP diminishes on steeper terrains and PTO HP is what helps your tractor navigate over and up rough terrain.
10. CHECK TYRE SHELF LIFE
Get a tyre tread depth gauge and measure the tread depth of the tractor tyres. Compare this measurement with the tread depth measurement on the tyre manufacturer's website to get a good idea of the shelf life of the tractor tyres. This is not a step to skip. Depending on the type of tractor tyres, they can cost you anywhere between a few thousand dollars to tens of thousands of dollars to replace.
13. BATTERY POWER
Ensure all connections to the battery are wired tightly. Check that the fluid level in each cell is adequate or not and don't forget to test the battery with a voltage meter. A reading below 9 volts suggests you need a new battery.
14. SOME OTHER THINGS TO LOOK INTO
Take the tractor for a test drive. Inspect the steering, gears and brakes.Drive it back and forth. If you sense a knock while moving it, chances are a transmission slip could be the culprit. Be aware of any gear slippage orchattering, and make sure the tractor tyres are operating as they should while steering.Check the pedals too.Ensure they are tight, stable and strong.Let go of the steering wheel while driving and notice if it pulls hard tothe left or hard to the right. Any looseness in the steering could mean that the main pin is bent or damaged and requires replacement.Whereas difficult steering could signify that the pins need to be greased or that the hydraulic cylinders might not be in proper working order.
15. CONSIDER THE COST OF MAINTENANCE
Before you buy a tractor, you must know the total annual costs to maintain the tractor. Ensure that it fits within your budget.Last but not least ensure you have a mechanic and brand dealernearby.Solis has a strong foothold in over 140+ countries that effortlesslyserves the interests of farmers. With more than 1,200,000 happy and satisfied customers globally, currently, Solis is the world's top 5thtractor manufacturer company, offering a wide range of 16-120 HPrange of tractors while setting new benchmarks in the tractor industry through powerful competence and advanced technologies.