Advantages of Having Solis Compact Farm Tractors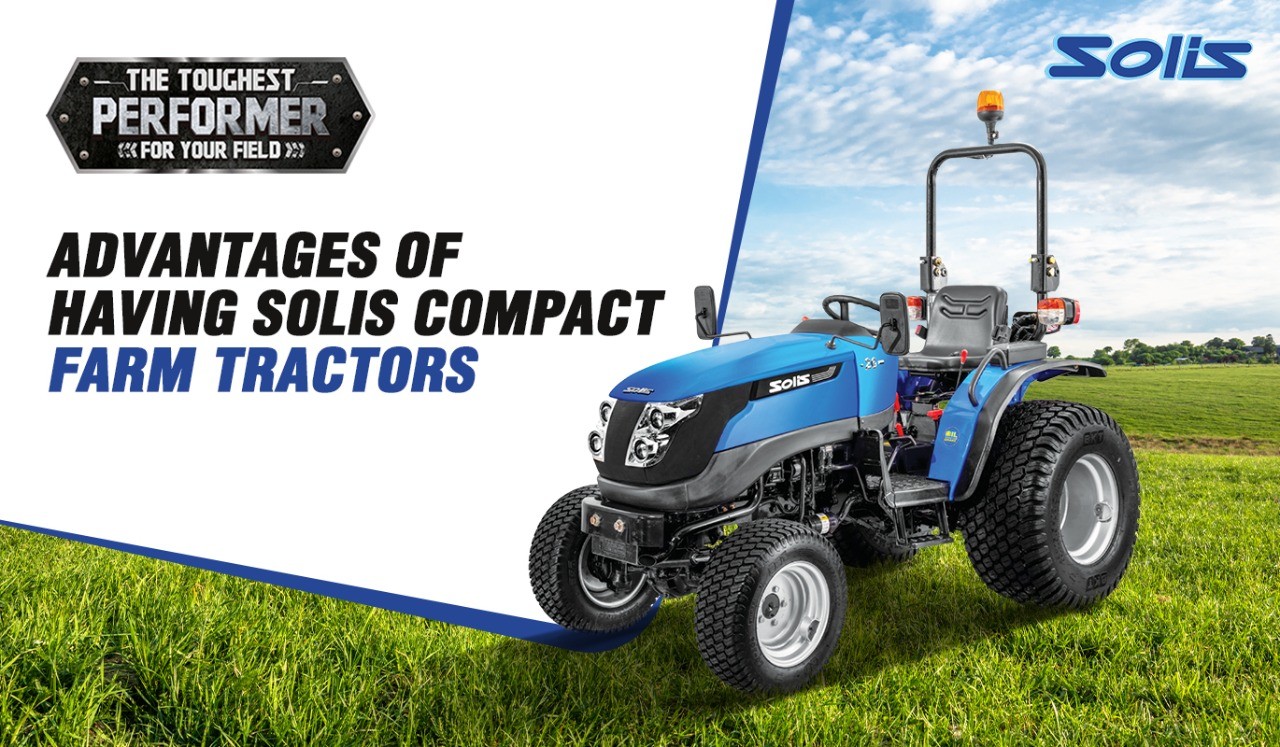 ITL has marked its history Since 1969, from producing farm equipment to now manufacturing a diverse range of tractors and all types of farming equipment while becoming the 6th largest manufacturing company in the world. Solis, One of the known Brands of ITL, is setting new benchmarks with its compact farm tractors' extraordinary prowess and utility. Solis is doing wonders and redefining agriculture by using new-age agri-tech to promote futuristic technologies among-st farmers. They are producing such resilient tractors which can work in the worst soil condition. Solis now has a global presence in more than 130+ countries with a persistent vision of always serving the best. The Brand provides farm tractors and offers a wide range of all auto components, engines, diesel gensets, etc.
Their tractor range comes in 3 series- S series, N series, and H series. These include compact farm tractors, tractors for narrow tracts, and tractors built-in with hydrostatic transmission. Solis has got you covered from any farming difficulties. What mainly distinguishes Solis as a brand from other companies is their compact tractor range, which can work efficiently on the field compared to big farm tractors. Solis focuses on every corner of farming needs by designing its models for different countries based on their agriculture and weather conditions.
Benefits of choosing Solis Compact Tractors
* Solis compact farm tractors never disappoint their users in terms of expectations. These tractors can work in small farms, private yards for industrial purposes, snow removal, and transmit heavy material loads.
* These models are specially made to help you deal with every problem, whether small or big. They will drive their users smoothly through any difficulties. They are the best compact tractors to go with and can work in muddy soil conditions without harming the ground.
*  Solis compact tractors are made to perform in all kinds of terrains, be they tough, muddy, sloping, or snowy. Its dynamically balanced body and practical traction ability that holds the perfect grip of land allows its users to work effortlessly on fields.
* Due to its compact size, this machine can help you with all the activities that a big machine cannot do. It can proficiently clean up your yards and remove the thick layers of snow with utmost comfort.
How to buy compact tractors that fit all your needs?
Solis tractor produces one of the best compact tractors to provide you with what a big farm machine can! They are so versatile and operate every task with ease. They may vary based on their size but can carry out tasks like mowing, cultivating, harvesting, tilling, ploughing, or using it for transmission while connecting farm implements with it.
The Solis best compact tractor range comes in 20-90hp, there are five tractors in this series which includes S20, it is specially designed for small-sized private laws and farms, this sturdy tractor can competently work on your farms. It can also perform any farming activity and transmission. S26, this compact tractor can work in all types of terrains. Its mighty diesel engine and hydraulic power steering help to reduce operational stress. S50, This compact machine is the perfect farm companion that can carry out even complex tasks with maximum ease.  S75, this compact tractor is built to execute transmission with precision, well known for its high-backup torque and Best-in-class lifting capacity. S90, this tractor is perfect in all kinds of activity, a king of versatility when it comes to executing tasks, be it farming, industrial purposes, or transmission. S26 Shuttle XL, this tractor is integrated with a high lifting capacity of 600 kg, synchromesh shuttle lever and 9 forward X 9 reversed gear shift that enables you to tackle any challenge. H26, this tractor delivers maximum productivity with its highly advanced features equipped with 3 cylinder Mitsubishi engine and a hydrostatic transmission that allows you to set the pace according to your comfort. It is not only ideal for small fields but can give an extraordinary performance on the large fields too.
The built-in advanced features result in a long life in fields. These compact tractors are built to last and give you support in difficult times. It can convert all your manual power into mechanical power. Also, it saves you time while providing top-notch performance, be it cleaning up your private farm, removing snow, or performing several farming activities with precision.
Any tractor can be a significant investment, so making a wise decision will always become beneficial for you and your farms. Solis compact tractor can do what a Big tractor can't with a smaller price tag. These machines are fuel and cost-efficient, which gives you more than its cost. It is the perfect all-rounder to carry out tasks with comfort while costing a little of its maintenance and producing abundance with the help of its ergonomic excellence. Solis assures you of total satisfaction and gives you conviction with clarity while you go to buy compact tractors.