Solis Tractors Creating New Benchmark of Power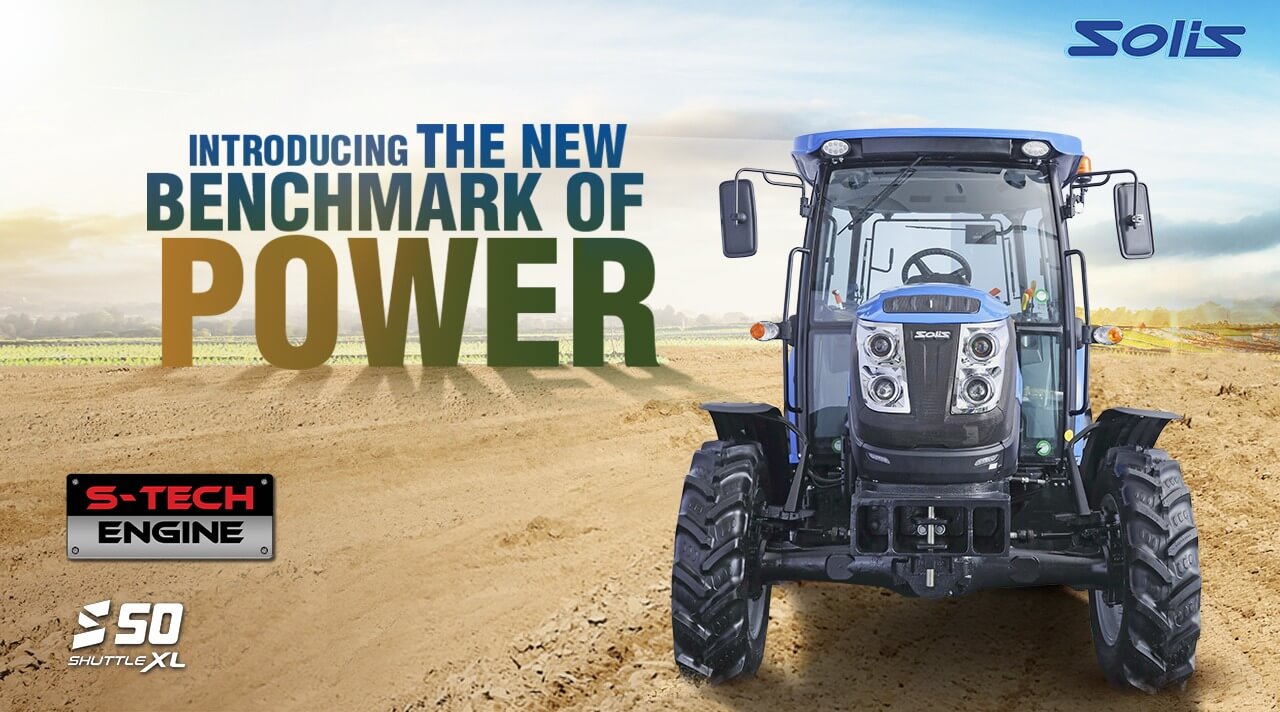 Solis tractors are the pioneers of innovation in the tractor industry that have revolutionised the way of farming. In the span of merely 25 years, Solis tractors have been successful in setting a new benchmark of power and excellence!
In our journey to the top, Solis tractors have covered several milestones that have made themthe first choice for farmers across the globe.
While there are several factors to talk about that make our farm champions outshine among the rest, the following USPs represent the best ones that you won't find anywhere else –
EASY MANAGEMENT
Solistractors encompass varieties of features that result in setting new benchmarks of power. With high productivity and low maintenance, our Agri experts are the perfect fit for your farms and fields. Not only do they ensure low vibrations during all farm operations but also elevate the ease of working. On top of that,the high range acceleration capacity in each Solis tractor enables the user to work easily.
Additionally, with the help of dual speed PTO,you can achieve overall increased power and an easy synchromesh transmission which in return consumes less fuel and reduces mechanical stress.
Furthermore, the heavy-duty and efficient engine of Solis tractors emits low carbon emissions, thereby creating a healthier ecosystem.
ARM FREE DROP LEVERS
Potent and powerful, the hydraulic auto-levelling Arm Free Drop Levers are designed to make hooking up different kinds of farm implementation tools fast and easy. These leverscan be activated by using easy up and down movements of the tractor's lift arm to help you work with all sorts of farm implementation tools.
COMPATIBILITY WITH AN ARRAY OF FARM IMPLEMENTATION TOOLS
We truly understand that you might come across different needs at different times and that is exactly why Solis tractors are manufactured in a way to support you at all costs. Solis tractors can be utilised with almost every one of them such as –
Front end loaders
Back end loader
Tractor Trailers
Rotavators
Mulchers
Harvesters
Cultivators
Pneumatic Planters
Boom Sprayers
Round Balers
Square Balers etc.
NEW CALIBRE OF POTENTIAL
With the impeccable hydraulics of Solis tractors, you can experience the matchless potential of elevating ordinary to extraordinary. The hydraulic lifting capacity of the Solis tractors can uplift productivity to a whole new level. Our mighty tractorsare empowered with a highly effective auto hitch facility and CAT-II three-point linkage that adds more precision to your success.
MANUFACTURED TO CONQUER ALL KINDS OF TERRAIN.
Thanks to its rugged tyres and high-end torque Solis tractors can easily work in any terrain without any disruption. Solis tractors also contain the ability to work in any soil. While it can be difficult for farmers to work in paddy, muddy or rocky soil but with Solis tractors, this problem will no longer stay with you. Its body structure and adequate traction can move smoothly across the land and eases your task. With a diverse range of tractors to choose from 2WD and 4WD models, Solis tractors can make farming far more exciting.
We at Solis are there for you to provide solutions to prepare your next yield. Solis is not just the name of a tractor and farm implement manufacturing company, it is a name that defines productivity and success.
Today Solis tractors have become the most reliable and the most effective tractors in the world. Thanks to the state-of-the-art technology and smart ergonomics, working with Solis tractors have become easier than before. The success stories ofSolis tractors can boast for themselves across all domains.
From what used to be just a small farm machinery manufacturing company working in a single country in the late 90s to a reach of 140+ countries, with a workforce of 5500+ dedicated employees we have come a long way.
With more than 1,200,000 happy and satisfied customers of Solis tractors present globally, we believe we have been successful in creating a benchmark of power for all!
Currently, we have become the world's top 5th tractor manufacturer, offering a wide range of 18-120 HP range of tractors while setting new benchmarks in the tractor industry through powerful competence and advanced technologies.
At Solis, we are extremely delighted to offer you our robust and power-packed tractors that come equipped with a heavy-duty engine to provide high power in fields with breathtaking results. Our Agri experts, are known to conquer every terrain or construction site that you can think of under minimal to low maintenance.
This is the reason, why our farm champions are known to be the toughest among all the tractors in the industry. These farm experts aim to deliver nothing less than exceptional results on any terrain and that too with smooth controls. We believe that with Solis tractors you can transform your farming experience into an exhilarating experience by taking your endeavours beyond limits.
You can take any Solis tractor be it compact or narrow and witness power, potential and performance at its best. With our garden tractors, compact tractors,mini tractors and narrow tractors, you can take your endeavours to a whole new level at your comfort.
Solis as a brand always endeavours to work towards sustainability with advanced mechanisms. Today, as we move towards, we are also expanding our footprints around the globe, because at Solis, believe in delivering reliability with world-class technology and high-end services.
While we are on our journey towards contributing to a better tomorrow, we have gained the trust of millions, which explains how we have become the first choice for farmers in major European countries like France, Germany, Belgium, Finland and the UK.
Today the world is in chaos with lots of questions for better yield, thankfully we have got the answers. To know more about different kinds of Solis tractors and other efficient farm implementation tools visit Solisworld. We would be more than happy to serve you with nothing but the best.