Solis Tractors Setting A New Benchmark of Performance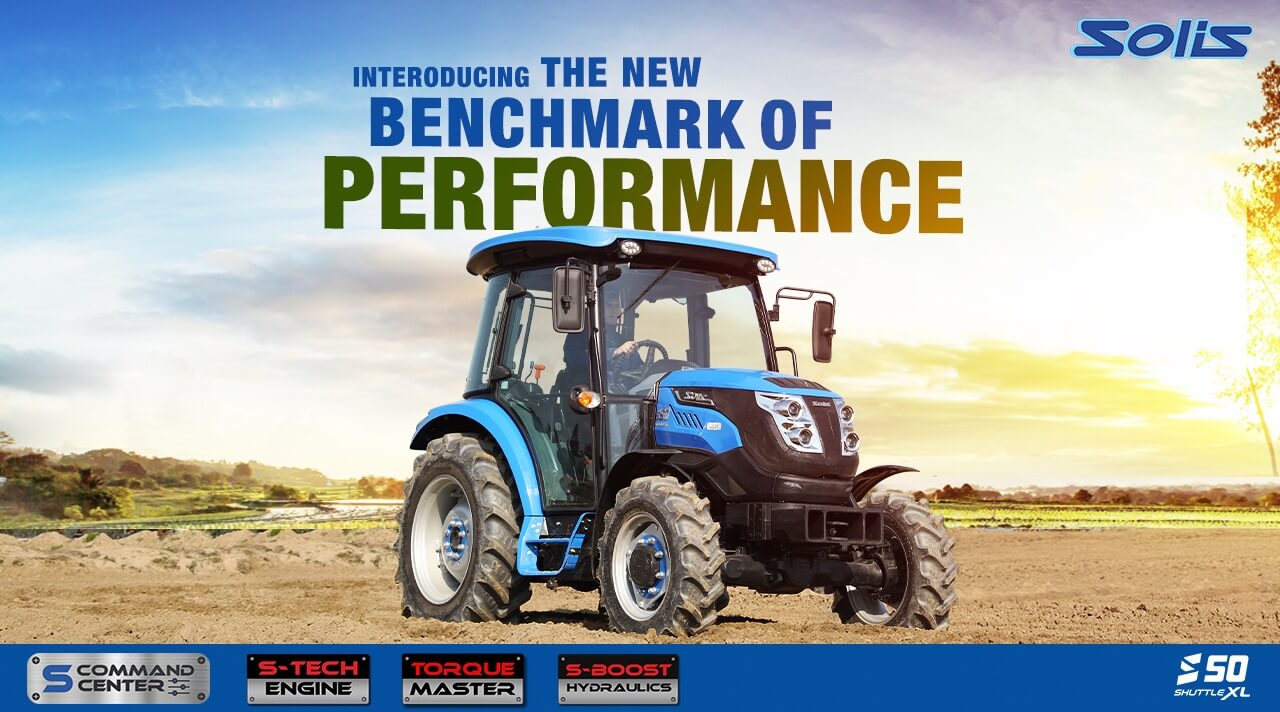 As the world progresses, every industry needs to design something and come up with distinctive that will drive it forward toward the top. The rapid advancement of technology has influenced every sector as well as every industry that contributes to sustainable global development. In doing so, it has incorporatedvarious changes that would make things easier for the benefit of the people. Being one of the core industries, the agricultural machinery companies are working towards improving the current scenario of agriculture.
They are looking for ways to promote advanced techniques to keep up with the norm. With farm mechanisation at an all-time high, the agricultural sector has come up with various advancements that have decreased the job strain for farmers. Many jobs that were once done by hand are now being conducted with the help of machines.
The invention of the tractor led to the start of the mechanized agrarian era of agriculture and now, farmers have got the power to do something as mundane as changing soil to transport heavier loads and deliver crops in ways they could have never imagined with animals.
Today, the tractor's widespread use has such a profound impact that it is well regarded as the backbone of contemporary farming.
With the green revolution and increasing production happening worldwide, International Tractors Limited grabbed the chance to start their own farm equipment manufacturing company and manufacture compact tractorswhich have now set a benchmark of performance worldwide.
ITL's Solis is well-known for its huge variety of toughest tractors, as well as their sturdy body and powerful performance. It has a strong foothold in over 140+ countries that effortlessly serves the interests of farmers.With more than 1,200,000 happy and satisfied customers globally, currently, Solis is the world's top 5th tractor manufacturer company, offering a wide range of 18-120 HP range of tractors while setting new benchmarks in the tractor industry through powerful competence and advanced technologies.
How Solis tractors have been successful in setting a new benchmark of performance?
Compatible with All Seasons
One of the best features of Solis tractors is their versatility to be used in every season owing to their technological advanced features. Compact tractors provide unrivalled operational efficiencies and versatility for a variety of jobs, including road maintenance, snow removal, tilling, cultivating, or mowing land, harvests, ploughing farms, and more.
Value for Money
Solis tractors are designed to deliver the best value to the end customer and deliver on performance without any compromise on power, quality & testing. These tractors are one of the best compact tractor brands, which is also economical in any given HP range.
Thorough Testing and Benchmark Checks
When it comes to delivery, every single unit of Solis tractor undergoes a series of thorough inspections and checks, which is whySolis compact tractors always deliver the best performance with longevity and unmatched toughness. All Solistractors are subjected to thorough inspections and verifications to ensure that they match international standards, but the brand goes above and beyond to support its customers and ensure that they receive superior service. It is because of our hard work and dedication in manufacturing and assembling the best pieces, you get a farm champion that can make your farm ventures successful.
Genuine Spare Parts
The high-tech approach to agribusiness is what distinguishes Solis tractors from their counterparts. The brand has a strong global network of over 1800 dealers who are always stocked with spare parts, which explains why Solis, as a tractor brand, is well-known for exceeding customer expectations.
The centralised spare parts centre in Germany, which was established in collaboration with Yanmar, is the assurance of this. Solis authentic components are manufactured using only the highest quality materials and the most innovative processes and technology to ensure high performance and extended life.
Solis tractors are dedicated to delivering high-performance results every time. Its effective features enable them to glide effortlessly through any terrain assisting the farmers with tilling or ploughing, as well as lifting and pulling heavy objects to mow and brush the snow away. Solis tractors are multitaskers serving numerous advantages that lead them to be the dream partner for industrial operations and agriculture.
Solis is redefining agribusiness with technologies and innovations that make challenging tasks much easier and simpler. Solis has truly become a leader in farm mechanisation and a manufacturer of a diverse range of tractor models, including small and compact tractors, utility tractors, and narrow-track farm tractors. In fact, Solis is renowned for its zero-defect manufacturing and low-cost agriculture tractor models that comply with strict quality standards.
In terms of performance and functionality, Solis tractors are highly long-lasting and efficient. Some of the affordable tractors include –
H-SERIES – The Solis H series tractors are heavy-duty tractors that generate exceptional results across all terrains.
S-SERIES – Solis S series tractors are performance-driven, technologically advanced, and mechanism-driven for every farmer. They make it easier for farmers to complete their chores most pleasantly and conveniently possible.
N SERIES – The Solis N series tractors are categorised as narrow tractors that can be easily utilised in gardens and lawns.Despite being small these are strong and effective. They are ideal for small track areas, pesticide treatment, and mixed cropping.
All the series deliver maximum capability in every field and the task leading to each tractor is an ideal partner for industrial applications and agricultural operations.
Solis tractors have made a strong obligation to address all of your agricultural needs. Each tractor in the range is capable of meeting the most complex challenges. As a result, Solis tractors have established themselves as one of the greatest compact tractors that were ever manufactured, and that too in one of the most cost-effective categories. It is fairly obvious that Solis compact tractors consistently give the finest performance, longevity, durability and unmatched toughness.
Moreover, because of their compactness, these farm champions can easily be utilised in tight spaces. Its one-of-a-kind hydraulic system aids in the rapid dragging and shifting of things.